EduKational Health Article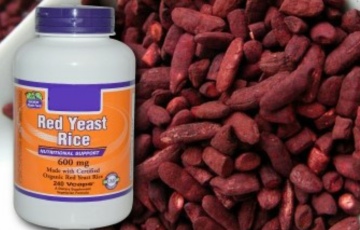 Red Yeast Rice - Warning
21 January 2017
Let us remain alert and skeptical when we hear of the heavily advertised "health products" recommended to us in the name of nature, natural health, supplements, research studies, and ground breaking news.
These are words commonly used by marketers to distract us from healthy eating, healthy living, and from following the honest medical doctors' advice.
Red yeast rice is often used in Asian cuisine to colour a wide variety of food products. In addition to its culinary use, red yeast rice is also used in Chinese herbology and traditional Chinese medicine. Its use has been documented as far back as the Tang Dynasty in China in 800 AD. It is most often taken internally to invigorate the body, aid in digestion, and revitalize the blood. More recently it is claimed the Red Yeast Rice can aid in cholesterol reduction.
Red yeast rice is produced by cultivating the yeast strain - a mold - Monascus purpureus on rice.
The safety of red yeast rice products has not been established, and some commercial supplements have been found to contain high levels of the toxin citrinin. Because of the low cost of chemical dyes, some producers of red yeast rice have adulterated their products with the poisonous dye Sudan Red G.
The following is taken from the article publishedby *NCBI at PubMed.gov
* National Center for Biotechnology Information
Abstract
AIMS:
Red yeast rice (RYR) is contained in dietary supplements for patients with dyslipidemia. RYR supplements contain monacolin K, which is chemically identical to lovastatin, a licensed drug with a well-known risk profile. We aim to describe the safety profile of RYR by analysing spontaneous reports of suspected adverse reactions (ARs).
METHODS:
Within the Italian Surveillance System of Natural Health Products, suspected ARs were collected and evaluated by a multidisciplinary group of experts to assess causality using the WHO-UMC system or the CIOMS/RUCAM score, for hepatic reactions. The public version of the WHO-Vigibase was also queried.
RESULTS:
From April 2002 to September 2015, out of 1261 total reports, 52 reports concerning 55 ARs to RYR dietary supplements were collected. ARs consisted in myalgia and/or increase in creatine phosphokinase (19), rhabdomyolysis (1), liver injury (10), gastrointestinal reactions (12), cutaneous reactions (9) and other reactions (4). Women were involved in 70% of cases. In 13 cases, the reaction required hospitalization, and 28 patients were taking other medications. Dechallenge was positive in 40 reactions (73%), rechallenge was positive in 7. Causality resulted as certain (1), probable (31, 56%), possible (18, 34%), unlikely (3) or unassessable (2). Similar distribution emerged from the WHO-Vigibase.
CONCLUSIONS:
The potential safety signals of myopathies and liver injury raise the hypothesis that the safety profile of RYR is similar to that of statins. Continuous monitoring of dietary supplements should be promoted to finally characterize their risk profile, thus supporting regulatory bodies for appropriate actions.
Article References:
Mazzanti G1, Moro PA2, Raschi E3, Da Cas R4, Menniti-Ippolito F4.
1 Department of Physiology and Pharmacology 'Vittorio Erspamer', Sapienza University of Rome, Piazzale Aldo Moro 5, 00185, Rome, Italy. 2 Poison Control Center, Niguarda Ca' Grande Hospital, Piazza Ospedale Maggiore 3, 20162, Milan, Italy. 3 Pharmacology Unit, Department of Medical and Surgical Sciences, University of Bologna, Via Irnerio 48, 40126, Bologna, Italy. 4 Centre for Epidemiology, National Institute of Health, Viale Regina Elena 299, 00161, Rome, Italy.
Comment
Our Health and wellbeing is not only in healthy eating and lifestyle, it is in our resolve to pursue for Buddhi to understand what information is correct and what is false for taking a wise decision.
This will transform the present disease and death selling society into a health, peace and prosperity, promoting united globl human society.
At EduKational we strongly advise against taking supplements of any kind - except on the advice of honest medical doctor - instead focus on eating a balanced diet of fresh, natural healthy food.
---